We Love Cherry Blossoms
Mar 06,2009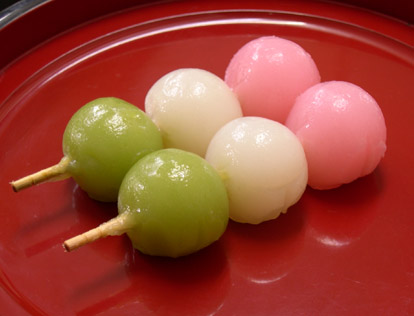 Well March is graduation season in Japan.
April is a beginning of a new year in Japan. School starts in April and fresh graduates also start working from April.
I think some anime fans know that Japanese middle schools and high schools have uniforms. It is a tradition in Japan for the girl to get the second button on the uniform jacket from the boy she loves on graduation day. I heard that it's the second button because it is closest to his heart.
Some popular boys even loose all his buttons on his uniform when too many girls ask for it.
Another thing that comes to my mind when I think of March are cherry blossoms.
I don't think anybody knows how much Japanese loves cherry blossoms. There is even a forecast of when the cherry trees would bloom when it comes to this season.
And when the forecast tells that this weekend would come into full bloom, people take their picnic sheets and Japanese sake (alcohol) and eat and drink under the cherry blossoms from noon. Some people take the sheets the night before to save the spot under the best cherry tree. Some parties go over night. Japanese may seem very serious and not the partying type. But when it comes to cherry blossom parties, many people go crazy.
We enjoy every bit of cherry blossoms including blizzards of falling cherry blossom petals. It is very romantic to walk through a soft blizzard of flower petals.
The picture is called a dango which is a dessert made of rice flour. It is sweet and "mochimochi". I can not find a word to express this in English but Japanese loves "mochimochi" food. It's somewhere between sticky, chewy and springy. I always thought that "sticky" is only a word that Japanese likes to have for food. The word "mochi mochi" is used for many food ads. The feeling is something like melted cheese. It's sticky, and stringy but good don't you think?
We eat dango all the time but during the cherry blossom season we eat this specific color version. The pink ball represents cherry blossom, white is spring air and green represents the coming summer.
See you next week.