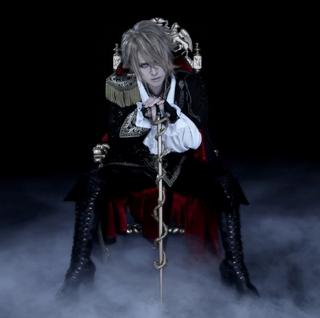 KAMIJO is releasing a new mini-album "Symphony of The Vampire" on March 5, 2014! According to KAMIJO's official announcement, this will be the first mini-album after his transfer to the major record label, Warner Music Japan where he once belonged as Versailles.

This is, as the song title indicates, a full-length symphony based on the sound of metal rock describing the Louis's path to be a king. It consists various musical movements with an epic main theme, aggressive tune, and beautiful ballad. Although we haven't caught its entire picture at this point, we'll inform you further information as fast as we can. So stay tuned.

Along with it, we are offering 2 exciting bonus on LAREINE-related items. One is a CDJapan exclusive A3-sized poster available with a purchase of LAREINE's "Lillie Charlotte Within Metamorphose." Another is a LAREINE romantic X'mas card that will be given to customers who purchase the album "Lillie Charlotte Within Metamorphose" and EMIRU (a basist of LAREINE)'s first album "MYTH - Harukanaru Tabiji - Pink Box Edition" OR "MYTH - Harukanaru Tabiji - Cinematic Edition" together in one order.

Don't miss out this opportunity.