girugamesh - New Full-Length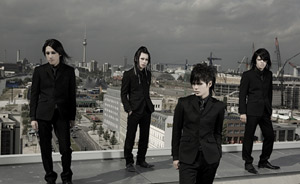 Heavy visual rock band girugamesh follows up July's "Reason of crying" mini-album with their second full-length album "girugamesh," out now.

The new album includes tracks with an even more aggressive, destructive, and powerful sound than girugamesh's previous releases. All tracks are newly recorded for the album. The album is available in two varieties, limited edition and regular edition. Limited edition includes a CD with ten songs and bonus DVD with two music videos and backstage footage. Regular edition includes a CD with thirteen songs featuring three bonus songs which are not included in the limited edition. If you're interested in the limited edition, be sure to order soon as supplies are extremely limited.

girugamesh are currently preparing a Japanese and European tour for January 2008. Get this album, and be ready for the upcoming shows!