-
Mike Bloomfield: 3 Mini LP Blu-spec CD2 Reissues & More!
-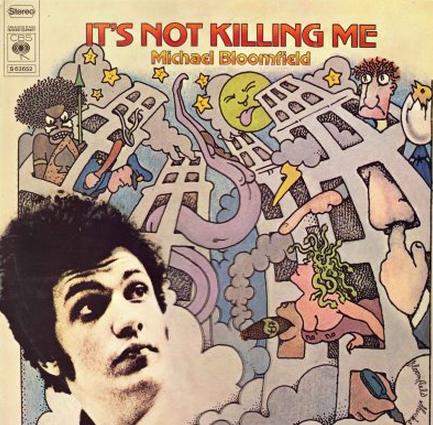 Three mini LP reissues from Mike Bloomfield will be out on January 29, 2014. Each reissue features the high-fidelity Blu-spec CD2 format (compatible with standard CD player) and digital remastering in 2008. Comes with lyrics and a description. This Mike Bloomfield cardboard sleeve reissue series features the following three titles: "Live At Bill Graham's Fillmore West," "It's Not Killing Me," and "Bloomfield."

More mini LP Blu-spec CD2 reissues related with him will out on the same date such as The Electric Flag's "A Long Time Comin'" and Al Kooper & Mike Bloomfield's "The Live Adventures Of Mike Bloomfield And Al Kooper." See more reissues on the Mike Bloomfield complete releases page.

---
Cream
Cardboard sleeve reissue features the high-fidelity SHM-SACD format (fully compatible with standard SACD player, but it does not play on standard CD players). Comes with a disc featuring mono mixed tracks for the first time in the world. Features cardboard sleeves faithfully replicating artworks of UK first pressing LP and UK reissued LP of "Full Cream." Also includes Japanese obi. HR cutting from DSD master in 2013 based on the original analog tape made in UK. Comes with a description and lyrics.


on the release date

SACD | 2013/12/18 |

4286

yen

The Animals
Cardboard sleeve (mini LP) reissue. Features the high-fidelity SHM-CD format (compatible with standard CD players) and the latest remastering. Includes 11 additional tracks (subject to change). Features a mini LP faithfully replicating the original UK LP artwork. Features Japanese original edit on included tracks. Comes with lyrics and a description.


on the release date

CD | 2013/12/18 |

2400

yen

Boston
Sixth album from Boston contains 12 tracks total, including a Japanese-edition bonus track. Produced and engineered by Tom Scholz. This edition features the high-fidelity SHM-CD format (compatible with standard CD players) and includes bonus item (subject to change). Special packaging (subject to change).


on the release date

CD | 2013/12/18 |

2857

yen

U2

U2's "Ordinary Love," which is included in a soundtrack album for the film "Mandela: Long Walk To Freedom," becomes available as 10-inch vinyl in a limited quantities. *This is a 10-inch vinyl record. *This product is an import edition. While our suppliers will continue to update availabilities, it may unexpectedly prove to be unobtainable after we process orders.


May take up to 1-2 weeks after the release date

LP | 2013/12/18 |

2000

yen

The Rolling Stones
Cardboard sleeve reissue features the high-fidelity SHM-CD format (compatible with standard CD players). Features a gatefold cardboard sleeve faithfully replicating UK first pressing LP artwork, two inner sleeves and includes an obi that replicates the one included in the Japanese first pressing LP. HR cutting from DSD master in 2011 based on the original analog tape made in UK. Comes with a description and lyrics.


on the release date

CD | 2013/12/18 |

3619

yen


Carpenters
Cardboard sleeve reissue features the high-fidelity SHM-SACD format (fully compatible with standard SACD player, but it does not play on standard CD players) and 2013 remaster supervised by Richard Carpenter.


on the release date

SACD | 2014/01/29 |

4286

yen
RED DRAGON CARTEL

*Advanced Japanese release. Debut album from Jake E Lee's RED DRAGON CARTEL.


on the release date

CD | 2013/12/18 |

2571

yen
Kingdom Come
Cardboard sleeve reissue features the high-fidelity SHM-CD format (compatible with standard CD players).


on the release date

CD | 2013/12/25 |

2667

yen
Deep Purple

Japanese original release. Live album from Deep Purple features their tour in Europe. Comes with a bonus disc with "Hush (live ver.)," "Space Truckin' (2 alternate live takes)," "First Sign of Madness," and "Things I Never Said." Features the high-fidelity SHM-CD format (compatible with standard CD player). Packed in a cardboard sleeve case with serial number.


on the release date

CD | 2013/12/18 |

3200

yen
The Who
Cardboard sleeve reissue features Platinum SHM-CD format. Features a gatefold cardboard sleeve faithfully replicating UK first pressing LP artwork, a 44-page booklet, and includes an obi that replicates the one included in the Japanese first pressing LP. HR cutting from DSD master in 2012 based on the original analog tape made in UK. Comes with a description and lyrics. *Platinum SHM-CD is the ultimate compact disc utilizing the platinum in place of the aluminum to form the reflective coating in addition to the proven SHM-CD technology. Platinum SHM-CD is fully compatible with standard CD players. However, it will not play on CD players that are not compatible with CD-R (Compact Disc-Recordable) discs.


on the release date

CD | 2013/12/18 |

4571

yen
Wishbone Ash
Cardboard sleeve reissue features the high-fidelity SHM-CD format (compatible with standard CD players).


on the release date

CD | 2013/12/25 |

2667

yen
The Yardbirds

Cardboard sleeve (mini LP) reissue. Features the high-fidelity SHM-CD format (compatible with standard CD players) and the latest remastering. Includes bonus track(s) (subject to change). Features two mini LP artworks faithfully replicating the original artworks from UK LP and US LP. Features Japanese original edit on included tracks. Comes with lyrics and a description.


on the release date

CD | 2013/12/18 |

3400

yen
THE BEATLES
This set consists of two volumes of "Live At The BBC" (TYCP-60034 & TYCP-60032). Features Japanese edition original case whose cover artwork is different from the one released outside Japan. Comes with a Japanese description and lyrics.


on the release date

CD | 2013/12/11 |

6667

yen
The Sensational Alex Harvey Band

Cardboard sleeve reissue from The Sensational Alex Harvey Band features the high-fidelity SHM-CD format (compatible with standard CD players). Part of 6-album The Sensational Alex Harvey Band cardboard sleeve reissue series features the albums, "Framed," "Next," "The Penthouse Tapes," "The Impossible Dream," "Tomorrow Belongs To Me," and "Live."


on the release date

CD | 2014/01/29 |

2667

yen
The Byrds

Cardboard sleeve reissue from The Byrds features the high-fidelity Blu-spec CD2 format (compatible with standard CD players). Comes with a description and lyrics. Part of six-album The Byrds cardboard sleeve reiessue series features the albums, "Byrdmaniax," "Farther Along," "Sweetheart Of The Rodeo," "Dr.byrds & Mr.hyde," "Ballad Of Easy Rider," and "Untitled." *Blu-spec CD2 is the next generation Compact Disc that employs the Phase Transition Mastering, the technology developed for mastering of Blu-ray discs, to further perfect the acclaimed characteristics of Blu-spec CD. Fully compatible with standard CD players, Blu-spec CD2 completely alters the experience of music.


within 1-4 days following release

CD | 2014/01/22 |

2100

yen

Extra Points Offered
Translate This Page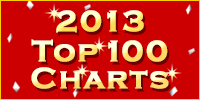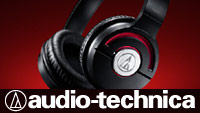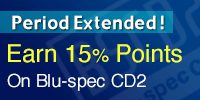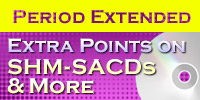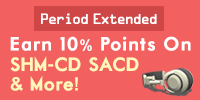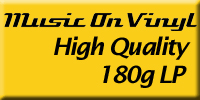 Updated Every Hour
Real Time Ranking
Daily CD Ranking
2013/12/04

SHINee

2013/11/27

Supertramp

2013/11/27

Cream