A Perfect Fusion Between VOCALOID and Japanese Traditional Music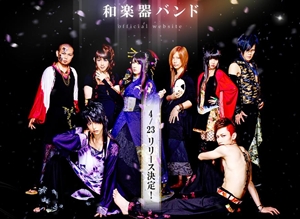 Have you heard of the name of Yuko Suzuhana with Wagakki Band before? Wagakki Band, Japanese traditional instruments orchestra, is a rock band mainly consisting of highly-skilled musicians who have Japanese traditional music background and lead by Yuko Suzuhana, a talented shigin instructor, singer-songwriter, and pianist who is very popular in the Niko Niko Douga scene.

On April 23, 2014, they will bring a new album "VOCALO Zanmai" in which they cover popular vocaloid songs such as "Senbonzakura (A Thousand Cherry Blossoms)," "Roku Chounen to Ichiya Monogatari," and "Tengaku." They have uploaded some of them on YouTube. This is a perfect fusion between VOCALOID and Japanese traditional music. Experience their new sound. *Picture shown is from their official website.