Angel Beats, the new Jun Maeda's anime!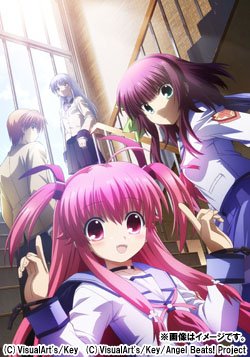 First Blu-ray release from anime series "Angel Beats!" written by Jun Maeda of "Air","Clannad","Little Busters!" and more hit anime series! P.A. Works animation studio worked as assistance for Fullmetal Alchemist and Darker than Black !

Plot: Set in a world after death, a boy Otonashi who lost his memories of his life after dying is enrolled into the afterlife school where students learn to give up any lingering attachments they still have from life before finally going to heaven. At the school, Otonashi meets a girl named Yuri who invites him to join the SSS (Shinda Sekai Sensen), an organization she leads, which fights against God. The student council at the school, led by the student council president and angel Tenshi, is in charge of keeping the status quo and serve to fight against the SSS.

Limited edition includes 2 episodes, a drama CD newly written by Jun Maeda. Also includes a booklet featuring musical score of intro & outro theme.