Index
What is OCEAN-TEABAG?
To Make OCEAN-TEABAG was Tough
Popular OCEAN-TEABAG Products
Been Purchased By Many People Already!
Complete List of OCEAN-TEABAG Products
#MyOceanTeabag Project
What is OCEAN-TEABAG?
OCEAN-TEABAG are tea bags designed inspired by animals (mainly associated with ocean) such as a dolphin, shark, and cat. Once you pour hot water and place them into a clear teapot or a cup, they look like they are swimming.
In the video below, we've tried "Sea Turtle Teabag" as example.
You can look a cute sea turtle floating in the ocean in a teapot.
This is just a portion of all the OCEAN-TEABAG products, and they have a wide variety of unique teabags.
To Make OCEAN-TEABAG was Tough
OCEAN-TEABAG was born under the idea by Shota Takahashi, the president of Daisho Suisan manufacturing OCEAN-TEABAG products. His company Daisho Suisan is doing business in the Fishing industry, and it was natural for him to had such idea: combining sea animals with tea bags.
This sounded a great idea for him, however, producing it was a very difficult because he had no knowledge of making teabags. No matter how many times he made enquiries with the idea, he always had the same replies from companies specializing making tea bags: "It is impossible to make such thing."
At that time, they could not understand at all why Takahashi-san would cost too much on such a disposable tea bag.
After being refused countless times, Mr. Takahashi begun a challenge while saying, "Let's make it yourself!" Of course, he did not have any know-how to create tea bags inspired his idea, but after many trials and errors, he finally succeeded in making the first teabag: "Dolphin Teabag."
The tea bag, which looks like a dolphin swimming in the sea, was later funded by a cloud-founding service and commercialized, and has got a huge popularity instantly.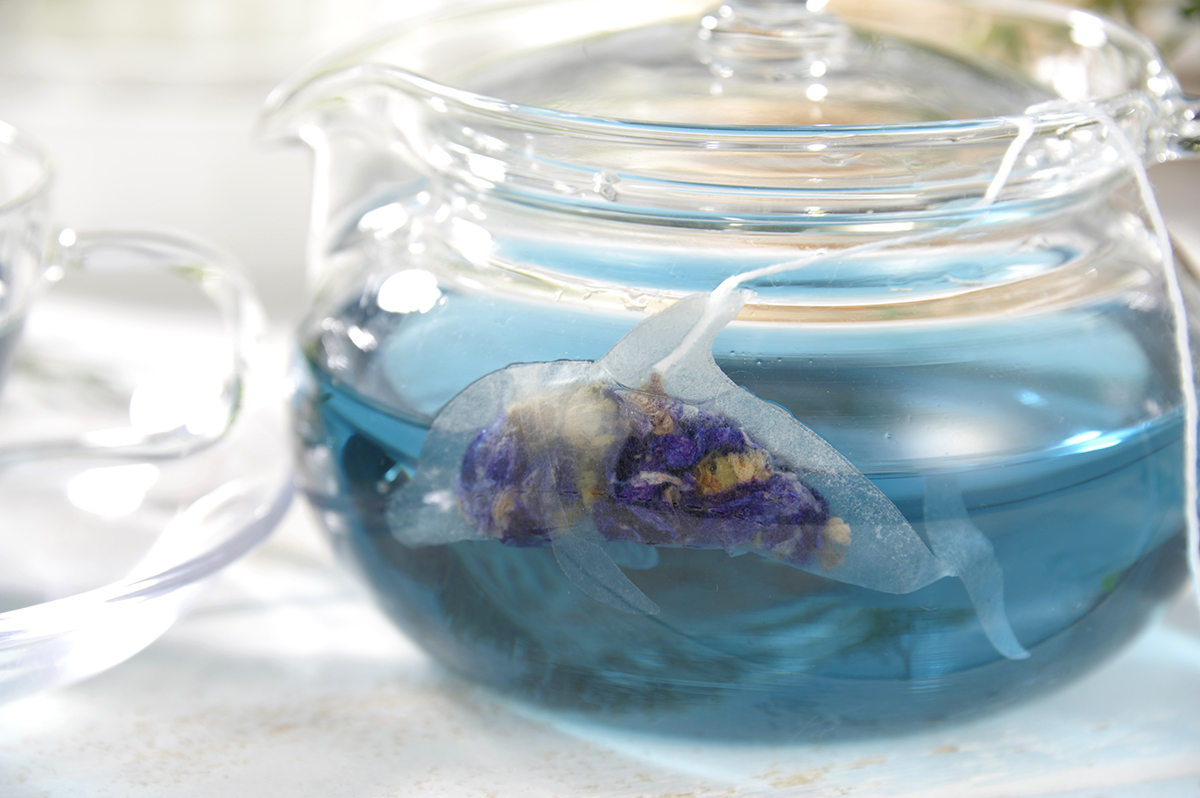 To start with Dolphin Teabag, they now transformed lots of animals into tea bags.
Popular OCEAN-TEABAG Products
A Set of 10 Kinds of OCEAN-TEABAG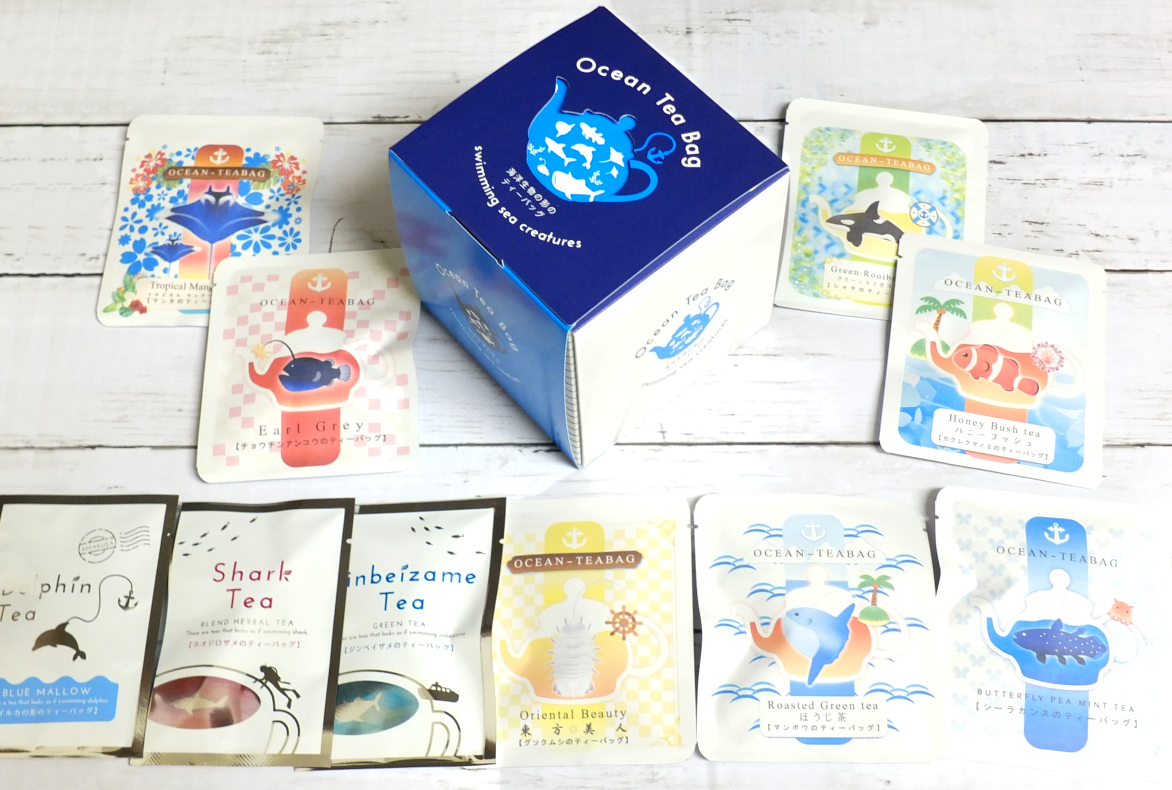 The best selling product among all the OCEAN-TEABAG products at CDJapan, and it is perfect for a gift.
Set includes:
Dolphin (Blue Mallow Blend)
Great White Shark (Hibiscus Blend)
Whale Shark (High Class Deep Steamed Green Tea)
Coelacanth (Butterfly Pea Blend)
Atlantic Footballfish (Earl Grey Tea)
Manta (Tropical Mango Tea)
Bathynomus Giganteus (Dongfang Meiren)
Sunfish (Hojicha)
Killer Whale (Green Rooibos Tea)
Clark's Anemonefish (Honeybush Tea)
Squid and Octopus Set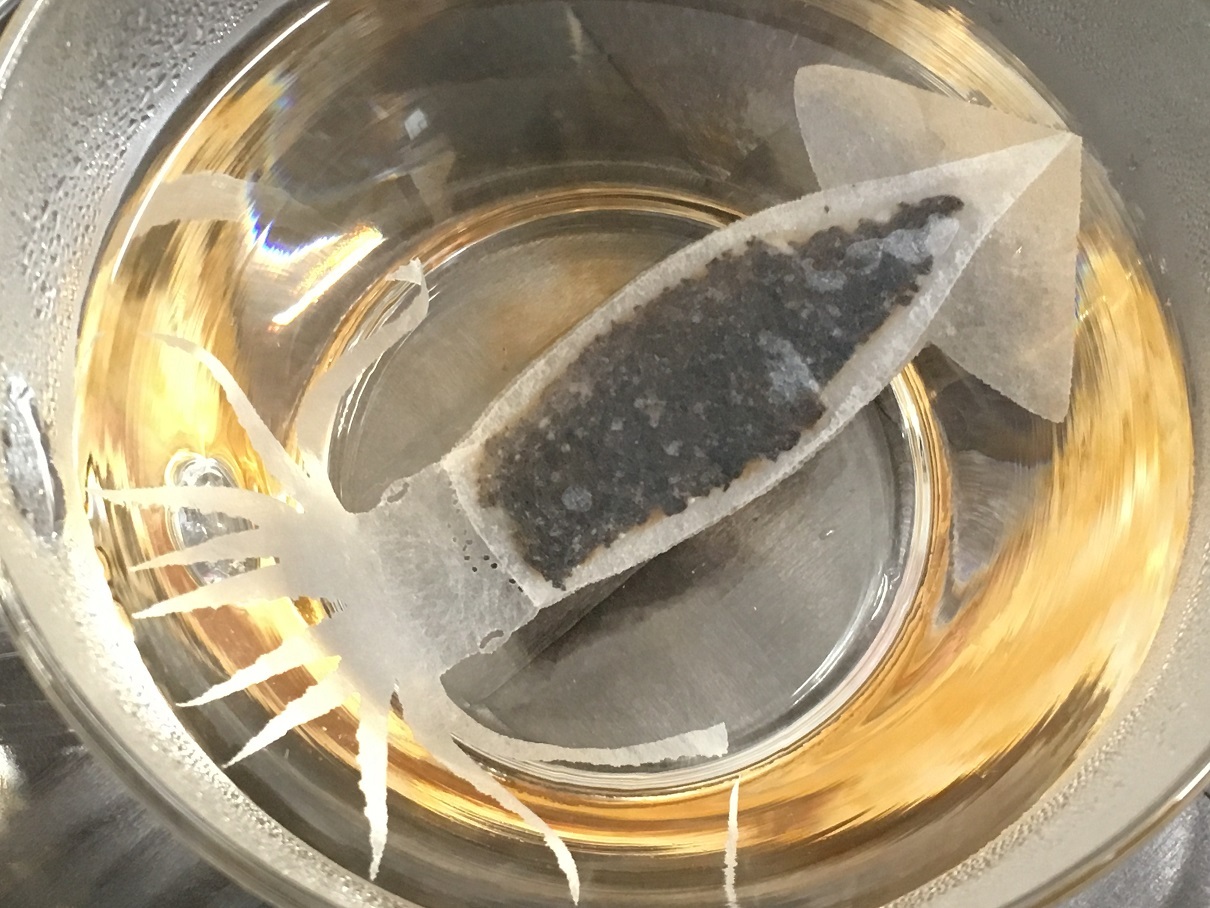 See? It's like a squid floating in the sea very comfortably
Attacking Shark Tea Bag
"Attacking Shark Tea Bag," which is getting popular, reminds me us of the legendary movie, "Jaws."
Cat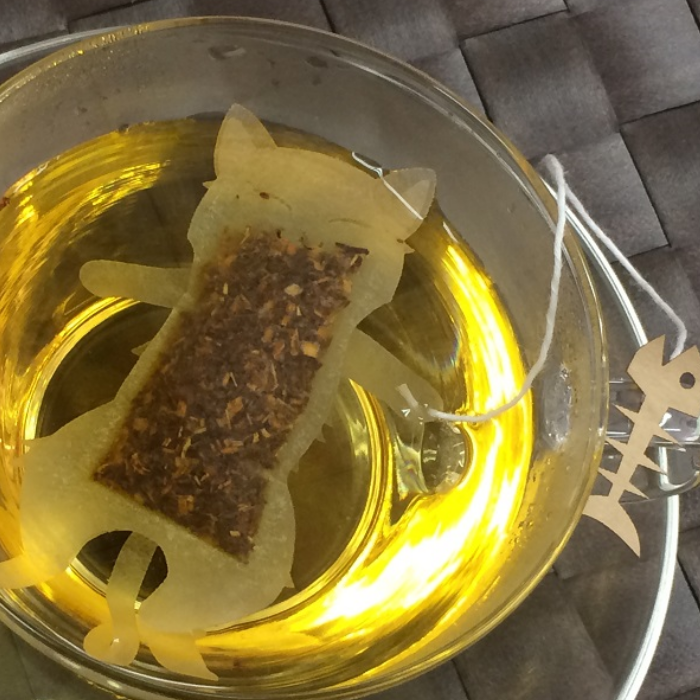 It is not only sea creatures that become tea bags but also cats and pandas, which are also popular variations OCEAN-TEABAG has.
We can see that a cat in a tea pot as if it takes a bath.
As you see, OCEAN-TEABAGs are fun to look but they are also tasty to drink.
How about spending a great time with these cute tea bags with your friends, lovers, and family?
Been Purchased By Many People Already!
After receiving orders, we will carefully pack yours to reach your home safely.
Complete List of OCEAN-TEABAG Products
#MyOceanTeabag Project
After receiving your OCEAN-TEABAG, why not taking a picture of it and share for fun?
On your social page feeds (Twitter & Instagram), it would be great that you share your Ocean-Teabag (tea bags, how to drink, feedback, whatever). When you post it, don't forget to put #MyOceanTeabag so that we can share it through our timelines, and put your posts on this feature page.
Simple Rules

On your twitter or instagram timelines, just post a photo of your treasure with a hashtag, #MyOceanTeabag.
Anything is OK as long as it is related to OCEAN-TEABAG.
It would be great if you could share a story or your passion to them.



#MyOceanTeabag Project Agreement & Notes

If other individuals are featured in your photo, please make sure permissions are acquired prior posting
The user is solely responsible for his/her own posts, CDJapan will deny any responsibility for the contents featured on our page
The following contents are prohibited and will instantly illegitimize your entry:  

Any contents that violate this agreement or interfere this offer's operation.
Any contents that smears, slanders, or defames any specific individual or organization.
Any contents that will or may violate public order and standards of decency.
Any contents that violate terms of the social network service you used to participate this offer.

CDJapan (Neowing Corporation) shall not be held liable in any way for the user inability to participate in this event regardless of the circumstances
We reserve the right to amend the provisions of this agreement at any time without the consent of the applicants and the applicants shall agree to such amendment.
By inserting the #MyOceanTeabag into your post, you are accepting the above agreements and advised that your post may be featured on a public page.
Several products are not able to be featured on the listing due to restrictions of rights.