Future & New Releases
Apparel & More
What's New

Featured Bands & Artists
Top Sellers & More
Single Issues
Magazine Subscription

-
Kaya: New Album "Gothic," 2014 Calendar & SALE!
-
A visual-kei artist, Kaya brings new album "Gothic" on December 4, 2013 and an original 2014 calendar" on December 14, 2013!

The album "Gothic" includes three single tracks from Kaya's "Gothic" series in 2012, newly written song(s), and more. CD cover artworks and a part of included track(s) corresponding to type A & B are different from each other.

Furthermore, to commemorate the release of this album, we are offering discount on Kaya's previous works only for a limited time until December 2, 2013 12:00PM. Be sure to check out!

LAREINE

EMIRU

Reissue from a visual kei band, LAREINE features their albums "LILLIE CHARLOTTE" and "Metamorphose." . . .


on the release date

CD | 2013/12/18 |

2381

yen

First album from EMIRU, the bass guitarist of a legendary visual kei band, LAREINE. It took three years to complete this work with the full cooperation by member(s) of ANUBIS and voice artists, and th . . .


on the release date

CD | 2013/12/18 |

3600

yen

Matenrou Opera

LM.C

Single from a visual kei band, Matenrou Opera. Comes with a bonus DVD featuring music video(s). *The DVD disc is encoded for region 2 (Japan, Europe, and Middle East), and no subtitles are included. . . .


within 1-2 days

CD | 2013/12/04 |

1300

yen

Single from visual kei band LM.C. Includes two tracks total. This edition includes a T-Shirt made by a collaboration between the band and STAY REAL. . . .


Out of Print

CD | 2013/12/11 |

4952

yen

Kaya

DIAURA

Album from visual kei artist Kaya includes single tracks released in 2012, new song(s), and more. *CD cover artworks and a part of included track(s) corresponding to type A & B are different from each . . .


within 1-2 days

CD | 2013/12/04 |

3500

yen

Second full-length album from a visual kei band, DIAURA features 11 tracks including a single track "SIRIUS" (subject to change). Comes with a bonus DVD. *The DVD disc is encoded for region 2 (Japan, . . .


within 3-7 days

CD | 2013/12/04 |

3800

yen

Anli Pollichino

SID

Single from a visual-kei band, Anli Pollichino. This edition comes with a bonus DVD. Features a card-type cover. *The DVD disc is encoded for region 2 (Japan, Europe, and Middle East), and no subtitle . . .


on the release date

CD | 2014/01/01 |

1600

yen

Live DVD from a visual kei band, SID features their 10th anniversary concert at Yokohama Stadium in April 2013. . . .


within 1-4 days following release

DVD | 2013/12/11 |

6476

yen

BUCK-TICK

GOTCHAROCKA

DVD release of the film "BUCK-TICK - BUCK-TICK Gensho -" Includes "BUCK-TICK - BUCK-TICK Gensho - I (86 min.)," and "BUCK-TICK - BUCK-TICK Gensho - II (91 min.)." This edition also includes "BUCK-TICK . . .


on the release date

DVD | 2014/01/22 |

11000

yen

Single from visual kei band GOTCHAROCKA. This edition includes a bonus DVD. *The DVD disc is encoded for region 2 (Japan, Europe, and Middle East), and no subtitles are included. . . .


Out of Print

CD | 2013/12/04 |

1800

yen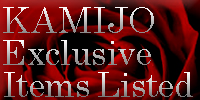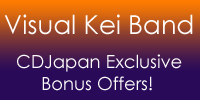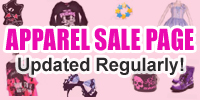 Weekly CD Ranking
2014/03/05

KAMIJO

2014/01/01

Golden Bomber

2013/12/11

LM.C

2013/12/18

DEATHGAZE

2013/12/11

DaizyStripper

2014/01/01

Anli Pollichino

Weekly DVD Ranking