Heisei Tanuki Gassen Pompoko(The Raccoon War) (1994)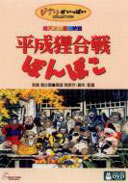 Nearly choked to extinction by mankind's city develpment projects, a raccoon race (the Tanukis) decides to fight back. Luckily, they have a power to transform themselves into humans.... The 1994 anime hit was directed by Isao Takahata, one of Studio Ghibli's two master filmmakers. Unlike "Grave of the Fireflies" which is Takahata's internationally best known work, this film is a comedy fantasy that leads to an unexpected conclusion. Like most of other Ghibli films, it has an environmental issue presented in an entertaining and unpreachy manner.
The second disc in this 2-disc set contains special features including 4 theatrical trailers, animated storyboard, and more.
5 items