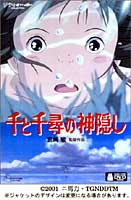 Four years since 'Mononoke Hime (Princess Mononoke),' comes a new animated fantasy from writer-director Hayao Miyazaki.
The film centers on a10 year old girl named Chihiro who wanders into a mysterious town where she must work hard to survive. The adversities make her realize the powers within herself and how alive she is. The movie is a fantasy entertainment with a message for people of all ages.
<Story>
On the other side of the tunnel was a mysterious town. A world that couldn't be, where things that couldn't happen happened. The town was right next to the human world, but it was a place that could never be seen by humans. The world was inhabited by Tochigami (god of the land), and many other Kakyushins (lower gods), Hanyoukais (half monsters), and Obakes (ghosts). There were hot springs in this strange world where the spirits spend time at to heal their wounds. A10 year old girl named Chihiro wanders into this mysterious world one day. There are two requirements for Chihiro to live on there. One is to work under the greedy witch who runs the huge Yuya (public bath house) which is in the center of the town, and the other is to be deprived of her name and cease being a person belonging to the human world. Chihiro is deprived of her name, and starts to work with the new name 'Sen.' In this town full of surprises and mysteries, what Chihiro feels at first is a desperate powerlessness......, and then a small hope. But even in this bizarre and perplexing world, Chihiro becomes livelier than ever after many encounters; Kamajii who has a lot of life experiences, a senior worker named Lin who teaches her the work at the Yuya, Yubaba's son, Bou, Kawa no Kamisama (god of river) covered in trash and sludge who escaped from the human world, Kaonashi, the faceless man with a mask, and Senba, the twin sister of Yubaba. Incidents way over one's imagination keep happening. Chihiro's 'power to live' which was asleep in her, starts to awaken. Then, a mysterious and beautiful boy called Haku appears before Chihiro. The encounter of a boy and a girl happens by the destiny based on a promise. With her memory steadily recovering, the two she opens up her heart and the two help one another. Will Chihiro get her name back, and will she come back alive to the human world.....?