--You've just released your first greatest hits album "pearl - The Best Collection-." What made you want to release the album now?
KOKIA: I had never really thought of doing a greatest hits album. However, my director mentioned one day at the start of 2005, "you know, quite a bit of time has passed since your debut, you have some great singles and soundtrack songs and yet you don't have a best-of album. Isn't it strange?" I started to get excited and said, "Now that you mention it, I haven't put out a best album yet." I thought how strange it all was, and how perfect the timing worked out, then told him "Yes, definitely!" (laughs)
--So it was this natural flow like, "you're right, I haven't released a best-of album yet."
KOKIA: Yes. I wasn°«t thinking "How about I release my greatest hits album . . . NOW!!" so much as that I was thinking that my career was just starting to naturally pick up, and to expand the breadth of what I work on in the future, I should probably release a greatest hits album. I want to start spreading my wings further in 2006, so I figure now is a good time to wrap up the early part of my career with a greatest hits collection.
--I see. Now then, you were kind enough to let me peek at the track list and I have to say, there are a ton of songs in there.
KOKIA: Yes, we crammed in as much as we could. (laughs)
--(laughs) I know a lot of the songs on the album, but I figure you must have suffered trying to choose from all of your hits. Were there any criteria you used to choose the songs?
KOKIA: I don't like it when people just throw all the singles they think should be on a best-of album together because those albums don't show off what the artists think is their own best songs. That's what I told the label. (laughs) So, I told them that I only want to put our the album if I can include songs that I may like even though they weren't released as singles or featured somewhere.

So, I started with all the songs people have heard before in commercials, then I combined them with all the songs I wanted everyone to hear from this person named KOKIA. Then I approached it like I would a regular album, choosing the songs that fit to a certain idea. I think it turned out to be an uncommonly good disc.
--Even though it's your greatest hits album, it doesn't sound like you took these songs from different albums.
KOKIA: Yes. That's likely because the tracks reflect my own opinion. Also . . . most of the tie-ups and single tracks start with the premise that they should be composed to sound good for radio or TV. I rearranged the songs that were designed to work in that type of moment, putting them in the shape I'd want to hear them if they were on an album. I think it's because of that balance that the style of each song doesn't skip around too much.
--Yes, it's very easy to listen to. Commercial theme songs tend to be made to stick out on TV so if you just throw them on an album they end up sticking out there too. But that was definitely not the case with your album. So you re-recorded those songs for this album . . . new versions and such.
KOKIA: Yes.
--How did the songs "Arigato" and "The Power of Smile" change when you re-recorded them?
KOKIA: A ton of years have passed since I released the song "Arigato." I think something like six years, right? And over six years time I've grown up in regards to KOKIA the singer and as KOKIA the person, the way I sing etc. etc.. It was important for me to sing the same song after these six years.

Greatest hits albums include songs from way back. Sometimes it°«s good that they are still filled with the sound of my voice, the thoughts in my head from that time. However, this time it was really important for me to consider this particular song when I was making the greatest hits album.

I decided to re-record the song because I wanted to tell everyone straight off thank you for supporting me the whole time, it's because of you guys that I'm able to put out albums in the first place. I thought it would reach my fans better if I sang to them in the words I can express now.

Then, with the "The Power of Smile," everyone's heard it a bunch through commercials and I sing it all the time when I play live. So, I wanted to try a new approach with the arrangement of this song that everyone recognizes as KOKIA, that everyone has heard. This real sense of play came out with arrangements and I thought, "Oh, so the song comes out like this, eh?" I feel like I was able to play around this time.
--But then there are those people that are thinking, "She changed it? But I liked the original song." Those people can hear the original since you also put it on the greatest hits album, and at the same time try out the new song.
KOKIA: Yes they can.
--Were there any songs you had trouble rearranging or recording?
KOKIA: Nah, not really. Well, not exactly trouble, but I guess it's bad to rearrange a song and not have it come out better. (laughs) I thought a lot about how to make my songs even better, but I wouldn't say I struggled with it. That's probably because I knew exactly what my position as a singer was, knew exactly what I wanted to convey to my fans.

Looking back on the eight years I've been able to sing my own songs as my job, I wanted to tell everyone how thankful I felt. That's not some sort of dressing you can just add onto a song. I wanted it to feel fun, on the other hand I wanted it to be really simple, I wanted to show off the latent potential of my songs, I wanted people to enjoy hearing my voice. For example, I wanted to make the song "Arigato" really simple, because I thought the feeling would get through to the audience better.

When I re-recorded these songs I brought in the artists that support me live, for example Mr. Matsuo who plays guitar for me on "Yume no Chikara" or Mr. Shioiri who plays keyboard and arranged the bossa nova version of "The Power of Smile" for me. I put an emphasis on capturing the groove we get live by bringing these musicians into the studio for recording, hoping that we could convey a fun, live feel.
--Speaking of which, the song "Chowa oto -with reflection-" also appears on your first greatest hits album. What language are the words that come up in the middle of the song.
KOKIA: Well then. In these lyrics there's an arrow pointing to the words "Kono Mori ni Hishimeku" (literal translation: "crowd around in this forest"), right? If you write that in the Roman alphabet it turns into "kono." Now then, read that backwards.
--Ah!
KOKIA: Read everything written in the Roman alphabet from right to left. I just wrote everything in the Roman alphabet and read them from back to front.
--Ah! I see!
KOKIA: So, the meaning of the words is Japanese. It's a word game.
--I didn't recognize it at all.
KOKIA: Well then, about the numbering, if you write the first two characters of the title in the Roman alphabet, it comes out as "cyouwa." So, "C" is letter number "3," right? And "Y" is letter number "25" right?
--Now you're really starting to surprise me. (laughs)
KOKIA: Like that, this song came about by mixing a bunch of word games with math.
--I see, so that's how it works . . . Well then, where did the title of your greatest hits album, "Pearl," come from?
KOKIA: Essentially, I'm a sort of shell for my songs. I'm struggling and enjoying and thinking all the time, and every one of my songs develops from a single grain of what I'm thinking at the moment. So each song is like a pearl. On their own they are certainly beautiful, but if you string them together you get a pearl necklace, and in this different form they can make a person shine. For that reason, I thought that "Pearl" was a beautiful name.
--That's wonderful.
KOKIA: Unlike diamonds and other glittering shiny things, pearls display a far more glossy light.
--Yes, they feel more dignified. Well then, looking back on this greatest hits album now that you've completed it, how would you objectively describe the disc in its total form?
KOKIA: We were able to make a very agreeable greatest hits album, so I can confidently say to everyone "we've made this great best album, please check it out!" I think that's the most important thing, and I've very happy with what we've done.

Occasionally, I'll also listen to my songs as a fan. As a listener, it's like you just said, we've included these bonus re-recordings on the album that open up a new way of listening to the songs. I think it's great that someone who already has all the singles can think "Oh! That's good too!"
--You also released your first DVD, right? What sort of content can we expect on "jewel -The Best Video Collection"?
KOKIA: "Jewel" is a music video compilation. I haven't officially released for sale any of my videos before, so I chose footage from all the music videos I've released to date and added a ton of additional video content like concert performances from 2003, 2004, and 2005.
--So we should buy this too. (laughs)
KOKIA: Yes, definitely. (laughs) Normally we make our music videos by working with the sound from the CD, but for "dandelion" we actually used a different version than the one recorded on this greatest hits album. So, it's sort of like a bonus track in that you can hear a new version of the song by watching the music video. (laughs)
--To fill your urge. (laughs)
KOKIA: (laughs) Yeah.
--Now then, I'm going to change the subject a little, but is there anything you think about when you're singing?
KOKIA: The thing I keep in mind when I'm singing is the sensation I want to send people. I think everybody puts their heart into their songs in order to get through to their audience. I definitely think I have some straight-up fun pop songs as well, but the core of each song is the lyrics. I think about conveying the feelings I want to convey through my lyrics and giving my songs a message. I'm not the latest boom in music or anything, just an artist trying to get a message across. I take care with my lyrics.
--The majority of your songs are definitely soothing. I feel better after listening to them.
KOKIA: Yes. A lot of people listen to the CD and feel soothed. Then they see a concert and they realize it's not the sort of place to simmer down. The concerts are stronger or like, more than I'm going "it's all right, it's all right" I'm giving them this powerful message. People tend to get up and go, "this isn't the time for moping around."
--Really? (laughs)
KOKIA: That is, I feel like they are really praising me when they say that. I was happy when, and I'm not going to be able to accurately convey exactly what this nice person said, but "soothing" has this real tender image to it, right? But when I'm singing live, sometimes I might seem tender, but I'm like the front lines in a war, sometimes I'm nice and sometimes I show love, other times I'm scary or intense. Apparently that's the image of my concert.
--It sounds like a pep talk.
KOKIA: Yeah (laughs). So it's not like I'm just being nice and saying "It's all right, you don't need to work so hard," sometimes I'll sing a dark song or I'll say something harsh in my lyrics. I think sometimes I'll say things that are hard to say normally, or that maybe I'm afraid to say because the person is my friend as well as things to make you feel better.
--There are certain times when it's important to say exactly what you're thinking.
KOKIA: Yes.
--Well then, objectively, how would you describe KOKIA the person?
KOKIA: Well, KOKIA likes to sing. Everyone knows that by now, though. (laughs)
--(laughs)
KOKIA: But . . . what is it . . . at the time I decided to make singing my job there were a lot of things I struggled and suffered over. However, singing wins over all those troubles, so I definitely feel like I want to sing. Whenever I hit a wall I keep trying. I WANT to keep trying. Whenever I hit a wall, I end up writing a good song, it's stimulating. I really think I like music.

There are probably countless times I've felt like quitting. Like, "this is so painful, maybe I'll just quit" or "this just isn't going right, maybe I'll just quit." But the truth is, while I may be thinking that at that instant, I've never once truly thought of giving up. I feel as though I was born to do music. (laughs)
--Which artist has influenced you the most?
KOKIA: Ummm, I'd have to say that, as a child, the one person I admired the most as an artist or entertainer was Michael Jackson. I've been really influenced by the music from abroad. Even when I was little, I didn't listen to much Japanese music.

When MTV was at its peak I used to always watch "Best Hit USA." I listened to a lot of foreign music and I really liked the outlook in the music videos from over there. I real like "Bad"-era Michael and have watched a lot from around then. I listened to the king and queen of pop, Michael Jackson and Madonna. I was really influenced by American music. Even Bon Jovi. (laughs)
--Really? (laughs)
KOKIA: You might be thinking, "Exactly where in KOKIA is the Bon Jovi?" (laughs), but it's true!
On the complete opposite side of the spectrum, I wouldn't say that Disney music influenced me exactly, but there's definitely a feeling that is shined up a little and put into my music.
So basically, there's probably not anyone that influenced me in the sense that I am trying to copy his or her music
--I see. Definitely, listening to those artists I'd have to say that none of them are known specifically as vocalists.
KOKIA: That's right. (laughs) One more artist who has strongly influenced me would be Ryuichi Sakamoto. But not as an entertainer so much as from the stance of a composer. I really love movies, so I thought it was amazing when I was a child that a Japanese person could work all over the world doing film music. I did try to copy him when I was playing piano, but I've never tried to follow him as a vocalist. It's strange.
--I figured you liked a bunch of singers.
KOKIA: The things I like are completely discrete, utterly opposite from what people think they are. I really, really like flashy things. (laughs)
--Uh, really? (laughs) Is there anything you collect, for example?
KOKIA: I get enthusiastic about everything. (laughs) I love accessories; I sometimes make my own earrings and affix my Swarovski earrings all over so that I twinkle. (laughs) I like shiny things. (laughs)
--(laughs) I see. Just listening to you I find you are multi-faceted.
KOKIA: Yes. Everyone has their own image of me, but most people see my photos and think that I'm the quiet type that reads at home with my cat. I hear that a lot from people whom I've just met. The truth is I'm the exact opposite.
--(laughs)
KOKIA: I'm a pretty active person. I used to go on trips by myself and I'm good at athletics.
People also tell me I look like I'd like classical music or European/UK stuff. I am absolutely not limited to that. For example, I love Eminem.
--It's intriguing that there are so many facets to you. Now then, are there any albums aside from your own that you'd like to recommend to our readers?
KOKIA: Cindy Lauper's album "At Last" where she covers famous songs. I was recommend it by a fan and I have to say it's amazing that after all these years she's still able to put out such a cool album.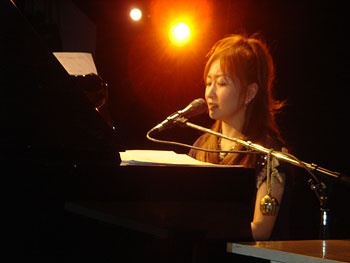 --What kind of songs do you want to sing in the future?
KOKIA: Ultimately I want to make meaningful songs that stay in people's hearts. I think I want to make music full of love. I want my songs to give people courage, make people feel happy.
--You're now set to go on tour starting in February. Could you tell us what makes you enthusiastic about this tour?
KOKIA: This tour is going to be a greatest-hits, "Thank u!" tour. Like the title of the tour, I'm going to put my whole body and soul into saying "arigato" with my music and will probably end up becoming a hollow shell afterwards. Everybody, definitely come and check it out yourself. Put your whole body into it and let's come out as shells together!
--(laughs)
KOKIA: You'll probably end up shutting down for a couple of days afterwards.
--I see. So basically, everybody come out and get into the music, right? OK finally then, could you give us a message for all the readers?
KOKIA: Thanks to everyone's support I've been able go far enough in my career to release a greatest hits collection. I'd like everyone to not let this end here, to follow me as I move towards the next stage in my career. Definitely look forward to what I have planned in the future.
--Thank you.