Tonari no Tororo(My Neighbor Totoro) (1988)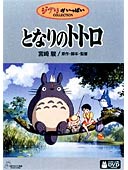 Hayao Miyazaki had been cradling the idea for this wonderful fantasy for a long time before he finally decided to write and direct it. Although it's set in the mid 1950's in Japan's rural area with Jinja shrines around, the sceneries with lots of trees, of fields and meadows with colorful flowers bring a universal feeling of joy and harmony even to those who have never left the big cities or living in other countries. Another charm of the movie is of course it's heart warming tale of the two little sisters and their relationships with the land's mysterious creatures (including a 'Cat Bus!') whose plots aren't forced or condescending in any way, which makes the film such an enjoyable experience for kids and adults alike.
Totoro is a delightful creature living in a huge camphor tree. He (it) sometimes sports a deadpan expression, other times a winning smile.
Moving to the countryside with their archaeologist father to be closer to their mother who is recuperating from illness in a sanatorium, two young sisters Satsuki and May experience wonders with their firsthand interactions with the nature. They soon befriend Totoro and other magical creatures who inhabit the nearby forest, and have some great adventures.
The DVD's bonus features include a complete storyboard-to-film comparison.
399 items