Gedo Senki (Tales from Earthsea) (2006)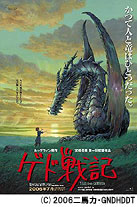 Ancient words have the power to unleash magic in the nautical world of Earthsea. One day Lord Archmage Ged sees a terrible omen, and sets out on an adventure to set the world right.
"Tales of Earthsee," also known as "Gedo Senki," is the latest work from Studio Ghibli, and the first work from Hayao Miyazaki's son, Goro Miyazaki. The film is based on the "Earthsea" novels by Ursula K. Le Guin.
47 items