For the first time in 3 years, JAM Project is back with their new album THUMB RISE AGAIN!
Recorded at Capitol Studios, a world class recording studio in Los Angeles, the new album contains 13 new songs. The new album has been highly anticipated since they completed their successful Latin America Tour 2012 in which they visited Brazil, Peru, Argentina, and Chile. In 2013, a lot of fans saw them live as they made guest appearances at "SONIC BANG" in Thailand, "Anime Friends" in Brazil, "AnimagiC 2013" in Germany, and also at Musicians Institute Concert Hall in Hollywood during the "Anime Cosplay Costume Contest" presented by JAAF.
Produced in collaboration with Takayuki Hattori, the musician who made enormous contributions to the JAM Project Symphonic Concert, the album is arranged by Jerry Hey, the horn arranger who put together the powerful horn section that backs up the music together with an ensemble of choral singers. All in all, over 70 musicians participated in the recording of THUMB RISE AGAIN, making it another epic album!
CDJapan Exclusive Poster
While supply lasts, a CDJapan Exclusive Poster will be included with THUMB RISE AGAIN. So, make sure to check it out!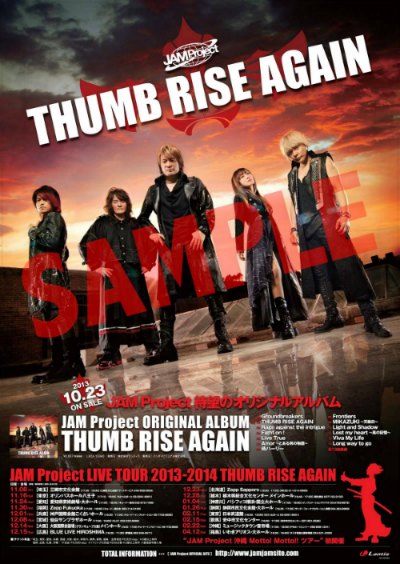 Thumb Rise Again / JAM Project
New Releases