Japan Earthquake Donation
In order to help the efforts to aid the victims of the Japan earthquake and tsunami, we made a donation to the Japanese Red Cross Society in the total amount of 1,324,789 yen, which is 2% of the total price of products ordered at CDJapan between March 16 and April 18. As we announced on this page, we made our donation in two parts to ensure that the amount reaches people in need soon. The first donation was made on April 1, corresponding to the total price of orders between March 16 and March 31, and the amount was 619,755yen. The second donation was made on April 18, corresponding to the second half of the period, between April 1 and April 14, in the amount of 705,034yen.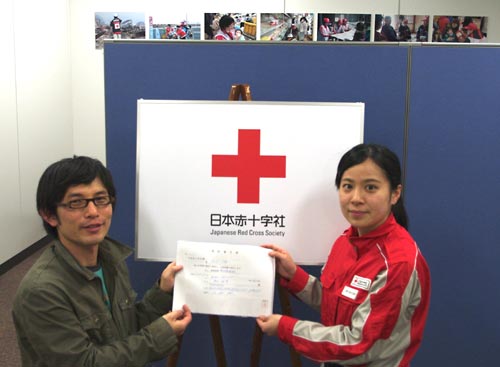 The visit to the Japanese Red Cross Society's headquarter on April 18,
when we made our second donation.
For all of us at CDJapan, the 311 earthquake was the most serious disaster experienced in our lives. When it occurred on Friday, we were working in our office as usual. Most of us were stranded in the office that night, as public transportation were not recovered until the next day on Saturday. Then we watched in horror the magnitude of the devastation as information soon became available on the news. We all felt that we must do something to help, and we don't know how to properly express with words our appreciations to our customers who made it possible. The best we can do is to say that we thank you from the bottom of our hearts.
As aid will continued to be needed, we would like to mention that the International Federation of Red Cross and Red Crescent Societies is accepting online donation specifically to support the Japanese Red Cross Society disaster relief efforts.
Nuclear Accident Level 7 but Tokyo Remains Safe
April 12
Today, a new provisional rating for the nuclear accident at Fukushima Daiichi nuclear power plant has been issued. On the INES scale, it is now rated at level 7. The main purpose of the INES scale is to ensure everyone is accurately informed on the occurrence and potential consequences of reported events.
While level 7 indicates the situation to be a major accident, we'd like to reassure you that it remains safe in Tokyo. Measurements indicate that radioactivity level in Tokyo has remained within a normal range. Neither Japan Post nor FedEx has detected any harmful contamination.
We will continue to stay informed and share new developments as we become aware about them on this page.
For accurate information about the accident, we recommend International Atomic Energy Agency's website below.
Information on Drinking Water Safety Released by WHO
March 28
On March 25, World Health Organization released an advice in which they said that the tap water in Japan outside the affected area poses no immediate health risk.
Information on drinking water safety released on March 25
Both Japan Post and FedEx consider it safe to continue shipping our packages overseas, but we will also pay attention to information made available by authorities and experts.
For a comprehensive information, visit WHO's website: Japan nuclear concerns
Further Information about Radiation
March 24
On March 23, radioactive iodine have been detected at the Kanamichi Water Purification Plant supplying the tap water to Tokyo, and the Metropolitan Government made a recommendation not to let infants under 1 year old drink the tap water.
Several hours later, the recommendation was lifted, as newer measurements indicated that the level of radioactive iodine has dropped to a level considered safe even for the infants.
As we continue to pay attention to the information that are made available, we would like to make information about our locations available.

View CDJapan in a larger map
Our office is in Tokyo, and our shipping department is in Kawasaki, Kanagawa. Shown in the map above are our locations in relation to the Nuclear Power Plants in Fukushima, which are located approximately 250km from Tokyo.
Aside from the temporary measurements of radioactive iodine at the water purification plant, there hasn't been any measurement to cause the government to issue any other recommendation in Tokyo.
As we will continue to hope things to improve, especially for people who are experiencing serious difficulties, we will also try our best to stay informed in order to keep ourselves safe.
WHO is also offering comprehensive information in a section of their website dedicated to Japan nuclear concerns, including informative FAQs.
Information about Radiation
March 17
Due to damages caused by the earthquake and tsunami, equipments at Fukushima Nuclear Power Plant haven't been fully operational, leading to explosions and fires in the facility. Subsequently, radiations have been detected in the vicinity.
All of us at CDJapan sympathize with people in the area who needed to evacuate from the exclusion zone ordered by the government, amidst the hardships they have already been going through.
Various organizations have been monitoring the levels of radiation in the general areas outside of the affected area. So far, none of the measurements has indicated any risk.
Readings of Radiation Levels

*Japanese government has been monitoring them closely, and they are now offering English version of the data for all regions in Japan.

*Tokyo Radiation Levels on facebook is monitoring them live.
Therefore, there hasn't been any issue preventing Japan Post and FedEx with shipping packages outside of Japan.
Furthermore, various countries, including the United States, Korea, and China have been screening packages arriving from Japan for contamination to assure safety.
CDJapan will continue to pay attention to news and announcements, and we will post any new development on this page as we become aware of them.
FedEx Shipments Resumed
March 17
FedEx resumed collection of CDJapan packages today, earlier than previously expected and announced.
We congratulate and appreciate their efforts, as well as Japan Post's dedications.
They inspire and encourage us to continue to try our best with our own services, too.
Record Companies Postpone New Releases in March
March 16
As our country is going through a serious hardship, record companies began to inform us that they are postponing the new releases to come out in March until later in April.
By taking this measure, they hope all resources that are available for transportations may be used to help the efforts to reach out to people in the devastated regions.
While CDJapan fully supports this course of action, we also understand the inconvenience it causes. We appreciate your kind understanding about the circumstance.
Universal Music Japan, avex trax, and Sony Music Entertainment are postponing all of their new releases that were originally going to be released between March 23 and March 30 until later in April, in this spirit. Most other record companies are taking a similar measure on some of their releases too.
We will be sending an email to everyone who ordered the new releases before this announcement.
FedEx Aims to Resume Collection of CDJapan Orders by March 22
March 16
Currently, FedEx is unable to collect CDJapan orders due to reasons listed below.
1. Yokohama Facility
There has been a minor damage in their facility in Yokohama, where all parcels are collected after they are picked up from senders in the region where our shipping department is located.
They reassured us that the damage isn't serious, but a lot of time is required to assess the safety and to realign everything.
2. Gasoline
Right now, gasoline is generally in shortage in the Tokyo Area, and they are still in the process of procuring enough amount of gasoline needed to operate their collection services reliably.
3. Scheduled Electric Power Outages
There have been scheduled electric power outages in the region, and they are still making adjustments to their operating hours.
As of today, FedEx is trying their best to resume their collection of CDJapan orders on March 22. While CDJapan sympathize with the hardship they are going through and appreciate their efforts, we apologize for the inconvenience caused by the delay. We appreciate your kind understanding.
Information About Earthquake
March 14, 2011
The earthquake and the subsequent tsunamis that hit Japan on March 11 have devastated a large area in northeast Japan.
Fortunately in Tokyo, there have been only a few minor damages, and most businesses haven't been affected seriously, including CDJapan and its suppliers. So, we are grateful to announce that we are able to continue processing orders as usual.
However, there will be scheduled electric power outages in Tokyo for a while, and our shipping department won't be able to operate during the day. Even though Japan Post has no problem sending orders overseas, it will take a few days until we are able to resume the shipping process after working out a feasible work schedule.
After March 16, we expect to be able to send orders once a day as usual, but please allow a few extra days than indicated on our site for your order to become available for shipping for a while.
Otherwise, everything is fine at CDJapan. There won't be any problem to process orders. It is taking a lot of extra time, but we are responding to inquiries too.
We received a very large number of messages to find out if we are OK, and we are happy to reassure you that everyone at CDJapan and all of our families have been fine and safe. Thank you so much for your kind thoughts.
Sincerely,
Toshi Makiya
CDJapan

---