Madousho is Mon+amour's insider newsletter booklets. 10 issues will be sent to Mon+amour International's platinum members annually in five to seven installments. Though the texts are in Japanese, all Mon+amour International members will be able to read the English translations of Madousho booklets online by accessing the exclusive Mon+amour web pages.
The first edition of Madousho to be sent to new members is the edition following the month in which they joined. However, depending on the month, two editions are sent together, and the new member may receive the following two issues together at a later date. Please also note that no back issues are available.
A specially made 6-ring binder will be sent to all platinum members. The corners of the covers shine with metallic reinforcements, and the black front cover features silver outlines representing a mystical formation which is the key that unlocks the gate to Mana's world.
The binder shall be used to file the Madousho booklets to be sent to you, and by doing so the volume shall act as your spiritual guide. With the binder, a Mon+amour oath will be sent, which shall best be filed here upon your signing it, as a token of your platinum membership.
The Madousho newsletter booklet is composed of 12 pages (except for 2 out of 10 issues per year that consist of 24 pages approx.), all in color! It beholds an insurmountable amount of information. Its wide-ranging topics reveal the unvarnished nature of Mana that cannot be found in magazines, and include rare talks by the members of Moi dix Mois. Conversations, interviews, monologues, prose, image sketches, and all sorts of expressive presentations will be experimented. What's more, taking full advantage of the all-color pages, there is to be displayed, never-before-seen photos and behind-the-scenes shots.
Mana himself serves as the supervisor of Madousho's production, including its writing and editing, to ensure that his thoughts and beliefs are delivered directly to the Mon+amour members.
Madousho booklets make up a sight to behold

Mana will describe the process and ardour involved in creating his albums, and impart to you about the sound systems employed in the tours. Those extensive and detailed contents will open your eyes to the world of Mana and Moi dix Mois in ways you never dreamed of (or perhaps you did but never thought it possible up till now).
Rare materials and surprise contents abound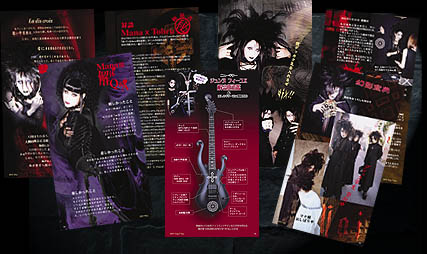 The adding-on of the Madousho collection will be a thrill, and will constitute an experience unique to the Mon+amour platinum membership. Showered by the phenomenal amount and quality of information, may the experience trigger each individual to extract their own meaning. May Madousho give you a taste, till the very last drop, for the wondrous universe created by Mana.
Come together, join Mon+amour, where Mana awaits to share with you his world of mystery and phantasmagoric imagination.