Shakugan no Shana Tokubetsu Hen - Koi to Onsen no Kogai Gakushu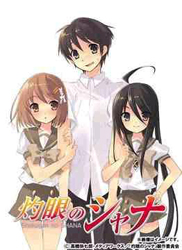 "Shakugan no Shana" first OVA is coming soon!

The story focuses on two love battles taking place during their school trip. Shana and her rival Kazumi Yoshida are fighting over Yuji. Meanwhile, everyone's favorite student, Oga-chan, has a thing for her classmate Eita Tanaka but discovers that he may be in love with another classmate--Eisaku Sato (all from Oga-chan's point of view). Refusing to lose to a man, Oga attacks!

Features illustrated package design by Inoji Ito, the same illustrator responsible for anime series "Suzumiya Haruhi no Yuutsu." Limited edition comes with a "Shana-tan" cell phone strap doll.

Order now!