Yuji Nimura (Joe Odagiri) dreams of future when he's asleep. The future he dreams of may not be the real future in store for him, but who cares... he doesn't. He works at an oshibori (wet hand towels) plant where he befriends Mamoru Arita (ubiquitous Tadanobu Asano) who is also an unsociable loner like him. They both harbor rage inside that they're unable to articulate, and Yuji looks up to Mamoru who is older, rather mysterious and cool.
One day, something happens and Mamoru has to go away, leaving his pet jellyfish - which is ghostly, glowing and lethally poisonous - to his friend's care. The jellyfish seems to symbolize the heroes' attitude in human society; graceful and indifferent most of the time, but sting when their space is invaded.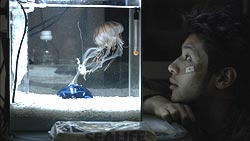 Another important figure in the film takes the form of Mamoru's father, Shinichiro (Tatsuya Fuji) who tries his best to amend his relationship with his son. After another major incident in the film, we see an unexpected and subtle friendship develop between Yuji and his friend's father who completes a curious triangle relationship.

Japanese celluloid youth dramas tend to sympathize with the angry young man, often giving ill-proportioned view of society as a result. Interestingly enough, Kurosawa's film presents older people's perspective as well by making Shinichiro not only a typically stubborn father figure, but also a genuinely caring person who may hold the key to Yuji's (and our) "bright future (akarui mirai)".
This is a film worth seeing for the director's sincerity alone in visualizing and portraying personal and realistic - if a bit unsettling - drama.

The DVD includes English subtitles.

The unpredictableness of what happens next is the most frightening kind of horror in films. The best examples are showcased in Kiyoshi Kurosawa's thrillers such as "Cure" and "Ningen Goukaku" where we see characters who suffer from amnesia, or "Hebi no Michi" in which the hero harbors an irrational fixation on the past events. In either case, the horror stems from us, the audience, not knowing what to expect next, since the characters' thoughts are unreadable and their actions are unexpected and often "senseless."
Unlike most of today's horror films which depend on gruesome subject matters to shock us, his movies make us the subject of terror, in the sense that "we" don't know the eventual outcome of a scene, and not the dense heroine who wanders into an old house with the ominous soundtrack in the background.
Even though "Kairo (Pulse)," "Charisma," and "Kourei" depict horrors of non-human origin, the most terrifying things in these fillms are still the human characters whom we are unable to associate ourselves. "Jigoku no Keibiin" is the most barefaced example of this, since it's the guard, whose job is to protect, who terrorizes people.
While his latest (2002) film, "Akarui Mirai (Bright Future)" is not a horror-thriller, its heroes are social misfits like many of us, and it depicts a real-life horror and sadness of those who are unable to communicate or function socially.
If you're wondering what the director looks like, the cult filmmaker makes a cameo appearance in "Chi wo Suu Uchuu" (a sequel to "Hakkyou suru Kuchibiru") as a paper delivery guy.