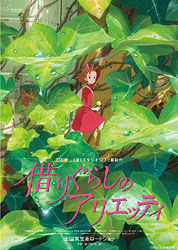 New Ghibli masterpiece comes from the children's fantasy novel
"The Borrowers"
, written by
Mary Norton
. Story moved into the modern Japan and depicts life of tiny people hiding from humans and keeping their existence unknown. However, the cute girl Arriety will break this secret...This is the debut of young Ghibli animator Hiromasa "Maro" Yonebayashi with supervision by
Hayao Miyazaki!
For the first time, music composer is not Japanese but French!
Cecile Corbel
is a young harpist of 30years old influenced by Ghibli's animes. She sent her new album to
Suzuki Toshio
, the producer, and got the surprise to be part of Borrowers's project. With Simon Caby, she composed the original music with beautiful sense of fantasy. Image album and song's CD are now available on preorder!